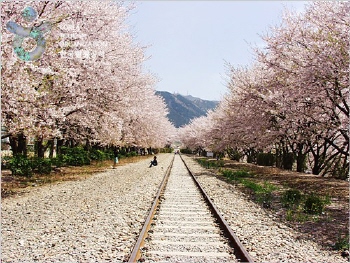 The
Jinhae Gunhangje Festival
, also known as the Jinhae Cherry Blossoms Festival, will be on April 1 to 10, 2013.
Jinhae is a county in Changwon City, Gyeongsangnam-do. To get there, you can take the bus or train. Bus takes 4 to 5 hours (or more if traffic is bad) so it would be better to take the train. We'll explore some options in this post. Do keep in mind that I haven't tried these routes myself yet, so these info might be subject to change.
The festival takes place at a lot of places, mostly scattered around the area (refer to map below). The little pink flower icons in the map are areas with cherry blossoms. The
Yeojwa Stream (여좌천) is probably the most popular spot for cherry blossoms.
It will be decorated with lights, laser beams, and mirrors, offering a fantastic light show in the evening. The stream is not far from Jinhae Station.
click to enlarge
Gyeonghwa

Station
looks amazing in pictures too. So it is also worth checking out.
Cherry Blossoms at Gyeonghwa Station
Option 1:
Seoul -> Masan -> Jinhae Station -> Gyeonghwa Station
-> and the same way back
BY TRAIN:
To find train schedules, go to Korail's website:
www.korail.com
Type Seoul to Jinhae, but make sure you click on 'Transfer' as the type of travel since there is no direct train to Jinhae.
You'll get this schedule. You're going to have to take the KTX and transfer to the Mugunghwa line at Masan. Your one way trip would cost you 49,600 won in total.
There are more train departure times if you want to make Masan your destination first. Then from Masan, you can take the bus going to Jinhae (Bus number 160, 162 or 760 - scroll below for screenshot).
BY BUS:
Nambu Bus Terminal to Jinhae Intercity Bus Terminal (approx. 4 hours)
For complete bus schedules:
https://www.nambuterminal.co.kr
(Korean only)
26,100 won
Then take Bus 305 or 317 at the opposite side of Jinhae Intercity Bus Terminal and get off at Jinhae High School (진해고등학교)
1,100 won
or
Express Bus Terminal to Masan (4hours 5min)
For complete bus schedules:
http://www.kobus.co.kr
(Korean, English)
20,600 won (General) - only 3 or 4 buses
30,500 won (Special) - majority of the buses
Then Masan Bus Terminal to Jinhae Station (approx. 40min)
1.600 won (more or less)
You can take bus 760, 160, or 162 to Jinhae. To find the bus stop, follow the dotted lines in the screenshot below.
bus 760 and bus 160
bus 162
Option 2:
Seoul --> Masan Station --> Gyeonghwa Station --> Jinhae Station --> Masan Station --> Seoul
You might want to see the lights display at sundown at the Yeojwa Stream, that's why. So if you arrive in the daytime, explore Gyeonghwa Station first. Personally, I think this is the better option between the two.
To do this, take the train or bus to Masan Station (as explained in Option 1).
From Masan Station to Gyeonghwa Station, take Bus 530 then transfer to 164. Note that Masan Station (train station) and Masan Express Bus Terminal are two different places.
Bus 530, then Bus 164
Bus 164 from Masan Express Bus Terminal
From Gyeonghwa Station to Jinhae Station, take Bus 315 just right outside the station (screenshot not necessary).
From Jinhae Station to Masan Station, take bus 760 across Jinhae Station (approx 50 minutes)
Lastly, take the train from Masan Station back to Seoul.
For more about the activities during the festival read
this
article
________________________________________________________________
Facebook:
www.f

b.com/koreatourism
T

witter: www.twitter.com/

koreantravel
YouTube

:
www.youtube.com/visitkorea
Official site:
www.visitkorea.or

.kr